Already for the fourth time in a row I was invited to present the three-day e-mobility rallye "Lipsia-e-Motion"  in the heart of middle Germany this year. Since 2014 drivers of electric vehicles – from pedelacs, scooters, motorbikes, small cars, limousines und sports cars – come electrically to Leipzig. They are all there – Kumpan, Renault, Peugeot, VW to Tesla.
Challenging at the "Lipsia", as everyone calls it, is always that despite precise planning and preparation I often don't know what happens next. Things can change with that many involved parties and over the course of three days. Spontaneity in the presentation is key here and what makes it exciting for me.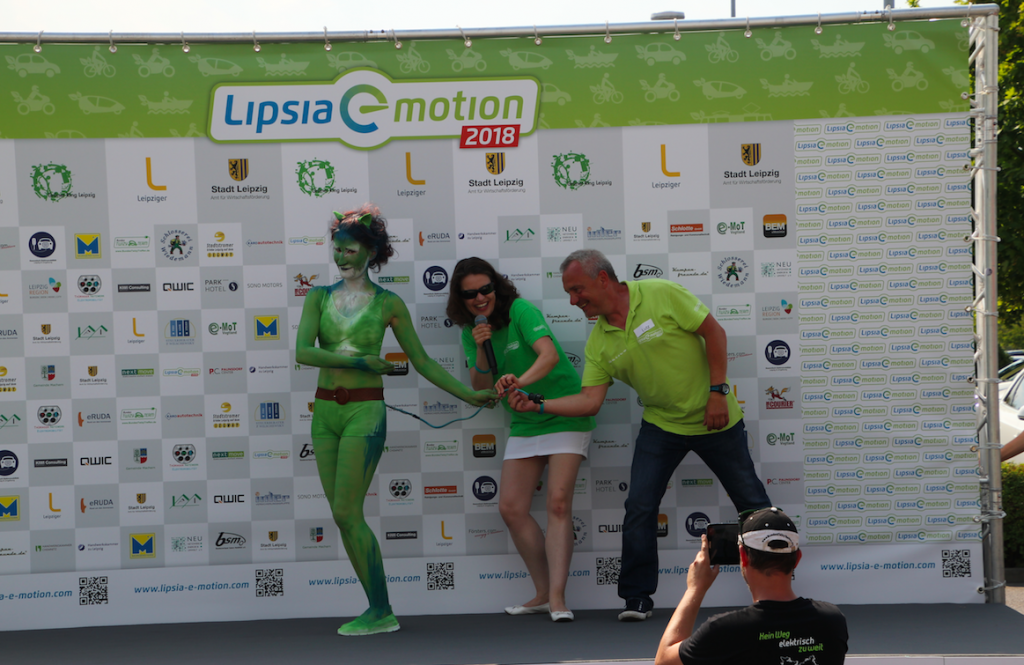 It was a special rallye this year because the Lipsia was taking place for the fifth time already in and around the city of Leipzig – this time with 110 electric vehicles. The organizing team, including the inventors Katrin and Lutz Förster and their hard-working volunteers put together a birthday rallye. This time I presented the opening, a rallye stop at of the e-week at Paunsdorf Center with politicians and VIPs of Leipzig, as well as funny birthday games (something completely different and so much fun) and the closing event with Leipzig's second mayor Heiko Rosenthal who has come to every"Lipsia" so far.
My personal highlight was that I finally was able to test drive the BMW i3 (which I have been trying to do since my first "Lipsia" in 2015) that was developed and is built in Leipzig. My conclusion: Clique, sporty, great acceleration and wonderfully silent – great fun of driving. Thanks again to the owner (he was one of the developers of the i3) for lending it to me!
Dear Lipsia team, thank you so much for making me a part of it again!