Vita
Active listening and asking precise questions are the most important qualities in what I do and how I do it. "You show real interest, I can feel that. You ask the right questions and actually listen", clients tell me. This is great compliment because yes: I am very interested in you, your business and your story.
Since childhood I became familiar with companies. I come from a family of entrepreneurs from the beautiful, medieval town of Frankenberg (Eder) in the center of Germany. My parents, grandparents and great-grandparents, from both sides, led and still lead a business. As a child I had fun helping out at my grandparents' grocery store or doing small stuff at my parents' office for civil engineering. I grew up with entrepreneurial spirit and a keen sense of responsibility that enables me to understand your business and its processes quickly.
However, a career in civil engineering or the grocery store was not my passion. I wanted to work in media or psychology. So I began writing for my local newspaper even before my studies in history, journalism, German and English media and communication. Several internships and freelance work in print, TV, public relations and communication followed – the last one I did for the United Nations in New York.
After my internship I was offered a job at the UN Strategic Communications Division where I was part of exciting communications projects for four years, such as 60 years of UN Peacekeeping, Human Rights and the launch of the first Nelson Mandela International Day – my favorite because we built it from scratch. For most of these projects I worked on the strategic planning and its implementation, coordinated the design of logos, websites, posters, brochures etc. Additionally, I organized exhibitions and events, such as conferences, celebrations and managed the press, as well as VIPs from Hollywood, sports and diplomacy. I worked on a Public Service Announcement with George Clooney as well as a short documentary about UN Peacekeeping. Beyond that I worked on the buildup and management of the first UN social media accounts on Facebook and Twitter.
After working on many projects on different topics, some in large teams, while living in New York City, I was looking for new a challenge. Building my own business was the next step for me. In 2011 I founded "Melanie Nolte : authentic communications" in Frankfurt am Main, Germany. My clients are national as well as international and I work in German and English.
For you, my clients, I work on similar projects as I did at the UN, but on the basis of two foundations called positionings – the first about you as an entrepreneur and the second one about your business. To improve my skills I keep abreast and educate myself in the field of communications and marketing. Additionally, I have for over 15 years training in psychology with an excellent coach. This separate psychological training has taught me why we are the way we are, and it has sharpened my intense perception. This enables me to recognize your talents, what you and your business is really great at, very quickly.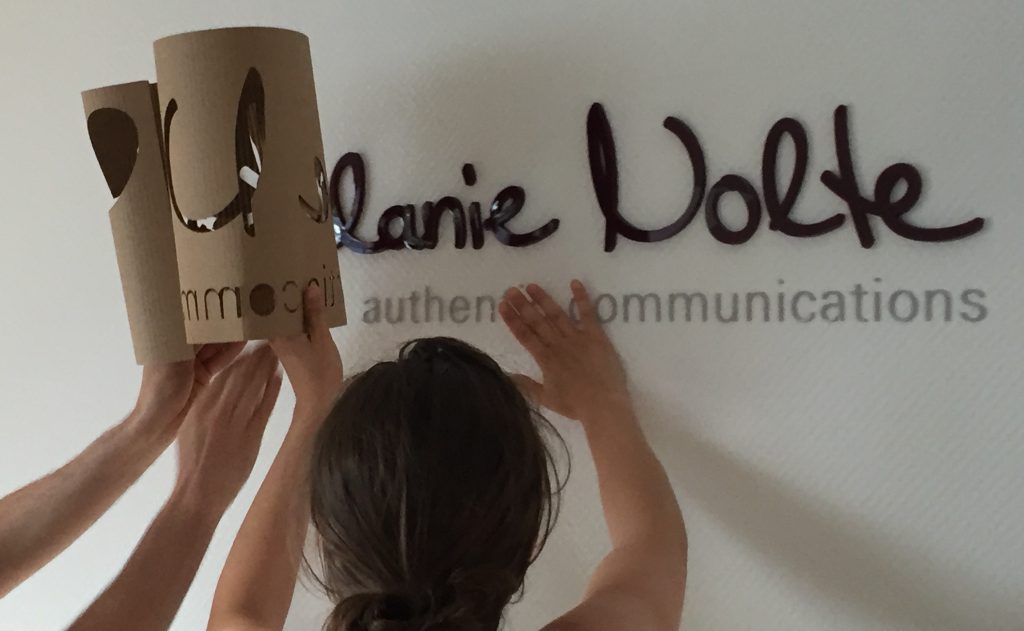 Where does my "authentic approach" come from? In my communications career of over 15 years I have unfortunately met quite many people who do daily things at work that they actually do not want to do. Even I myself had to work on communications projects that I was not totally convinced about – and felt conflicted. However, when I stand behind something, when I am authentic and do not have to pretend it is very easy for me to communicate and be convincing. Aren't those persons who are absolutely convinced about their product exactly those who entice us? Yes, because they are authentic. One of the best examples for me still remains Apple's Steve Jobs.
"Melanie Nolte : authentic communications" is what I had always envisioned for myself professionally, combining my two passions – communications and psychology. My work is versatile – personal workshops, positioning, consulting, coaching, developing strategies, integrating different media, writing, implementing everything with partners – and I am am always engaged with you, my clients and your fabulous companies.
I am looking forward to discovering you and your business' strengths so that you can become aware of them and are happy with what you do. In the same manner I am looking forward to furthering your company with authentic communications so that you convince potential buyers and gain more clients.   
Yours,